3 Beautiful Lace Inspired Designs to warm every girl's heart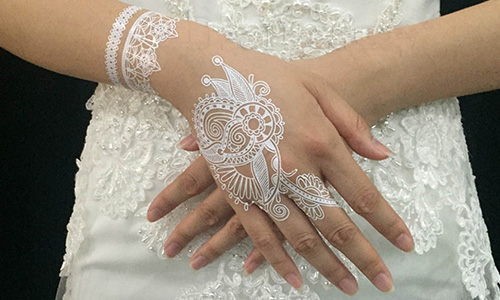 Details:
Most girls love lace. It takes us back to days when we wore pretty pink or pastel frocks and frilly socks and cute little sun hats with lace trimmings. Days when life was simpler and getting the things we wanted was usually just one sweet pout away!
As little girls grow up, many things change, but the love for pretty things only intensifies, and therein lies the nostalgic appeal of lace. As luck will have it, lace also looks notoriously good as tattoos. Here are a few ideas in case you'd like to consider sporting a funky lace inspired henna tattoo.
Go crazy with these lacey designs. Don't restrict yourself to the arm, or back or any other usual area. The beauty of henna is that you get unlimited chances! If something doesn't look as great as you thought, it will come off soon enough and you can redo it in a better way!


For best results use a nice dark shade of henna


A lacey ribbon design perhaps? You'll need to be very careful and detailed while creating this one! It's intricate!